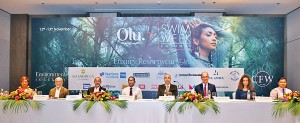 CFW announces fashion in the 'new normal' | Print edition
By Ruqyyaha Deane
New edition of 'Olu Swim Week' takes a look at the holiday season and destination weddings with cuisine too to strike a trendy flavor
Views) :
Colombo Fashion Week will kick off a new edition of "Olu Swim Week" next month with a focus on their theme "Environment is Luxury" with Day 1 on November 12 in the Grand Ballroom of Shangri-La and day 2 on November 13 in the changing Colombo port city landscape. This edition of Olu Swim Week focuses on Luxury Resortwear with a focus on the holiday season and destination weddings.
"It was time for us to organize this with the opening of things, as the fashion industry has been badly affected due to the pandemic," Colombo Fashion Week founder and general manager Ajai said on Tuesday. Vir Singh, at a press conference. Environmental and societal aspects were also taken into account with a "Responsible Fashion Summit" on November 8 to focus on the issues of the fashion and garment industry in Sri Lanka, he added.
The current "new normal" presents an interesting scenario for fashion designers, where aspects of sustainability play an important role in addition to providing the design solution that a fashion consumer expects. It is indeed the new standard for the organizers also to have to manage the logistics of an event of this nature while respecting the restrictions of health and safety. Olu Swim Week will therefore be a hybrid event broadcast live with a limited number of physical participants.
Timothy Wright, Vice President and General Manager of the Shangri-La Hotel, Colombo, joined Ajai at the head table; Managing Director of OLU Tropical Water, Amal de Silva Wijeyeratne; Managing Director of Liquid Island (Pvt) Ltd. Shalindri Malawana; CEO of Nations Trust Bank PLC, Priyantha Talwatte and founder of Ramani Fernando Salons, Ramani Fernando.
"When we pick up Ajai's call we know swim week is just around the corner and we know we have to get down to business. From setup to show days to coordination, it's truly an honor to be a part of this, "said Shalindri Malawana, adding how excited they are to share and promote their green efforts.
At the Luxury Resort Edition, familiar names will be presented to CFW, designers Darshi Keerthisena, Charini Suriyage, Fouzul Hameed, Indi Yapa Abeywardena, Aslam Hussain and Dinushi Pamunuwa, among others.
Giving us a glimpse of what to expect at the next Swim Week, Shangri-La Executive Chef Patrick Buttgereit and his team have gone the extra mile to show that food can be trendy too! Taking the press behind the scenes, Chef Buttgereit led us to the hotel laundry which had been brilliantly converted into an experiential refreshment lounge with decor highlights being mannequins comfortably dressed in origami bathrobes and towels in shape of hanging chickens.
In ambient blue and pink lighting, the chef team wore dresses over their uniforms to show us how fashion can make things a little whimsical. One chef sewed tea bags on demand once a tea flavor was chosen, while another used an iron to toast paninis. A hairdryer was used to reveal a decadent mousse hidden under a sphere of melted chocolate. Colorful candy bags were hung on hangers for guests to take home while cakes and cocktail candy sticks and more were artfully glued to irons. For theatrical effect, liquid nitrogen was used at the live ice cream station.
If this is a little taste of what to expect at Olu Swim Week, it will be worth the wait!