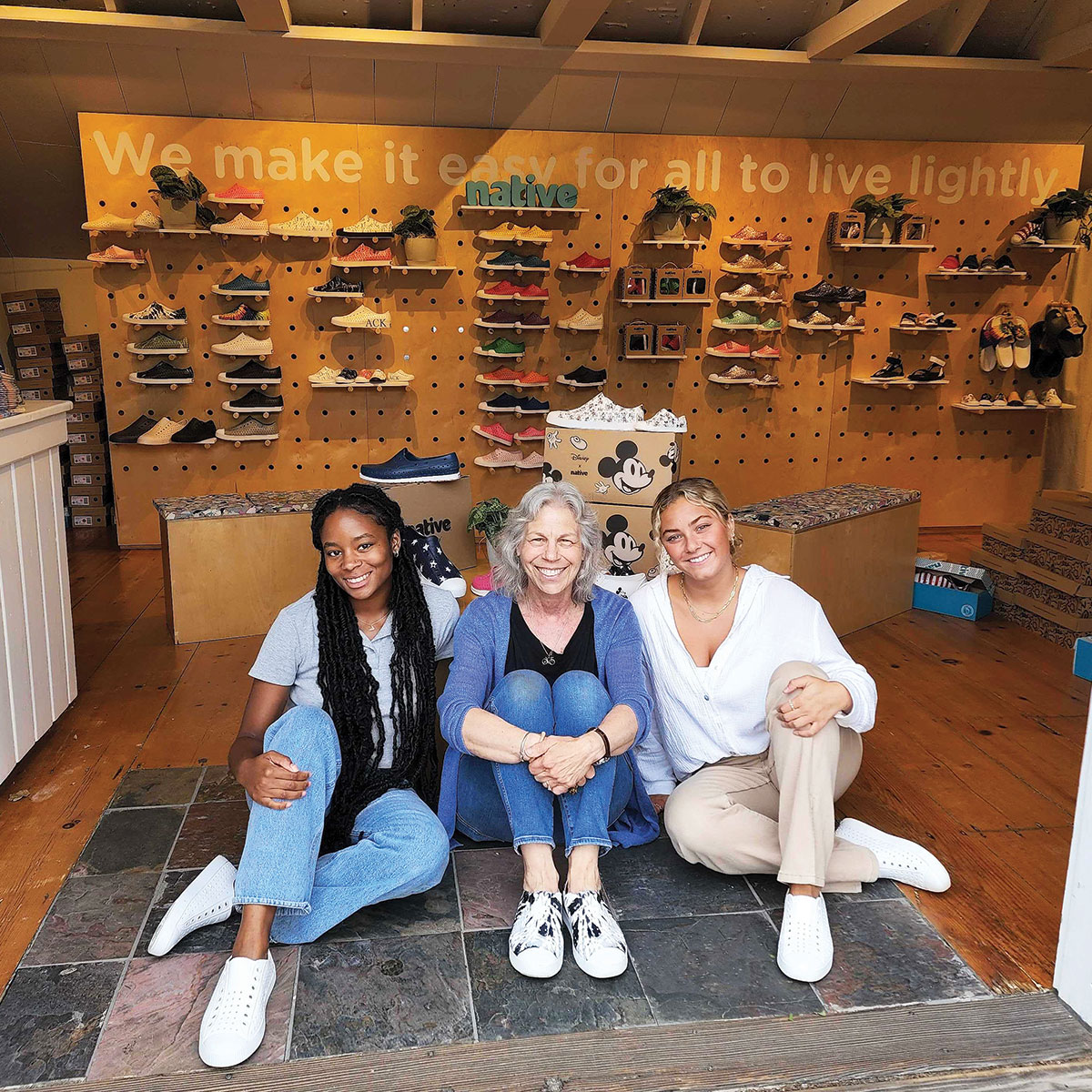 Colorful, carefree and fun – the island of yesterday, Nantucket of today
EYE ON STYLE: NATIVE SHOES
It seems the heavier the world gets, the more light it needs, and Live Lightly is a motto of Native Shoes, a company dedicated to designing shoes that are fun and comfortable, low in climate impact and can – and have been! – recycled. and transformed into places where children can play.
There's only one Native Shoes store in the United States, and it's right here on Straight Wharf. Founder Kyle Housman visited our island every summer as a kid, biking Surfside with his parents and enjoying the natural beauty here. Decades later, when he decided in 2018 to open the first store in the United States for his Vancouver-based company Native Shoes, he knew Nantucket was the perfect fit.
Native Shoes has simple, modern designs that are comfortable and durable for all ages and activities. Great for island living – boating, fishing, gardening, walking the dogs, going to the beach, outfitting the kids for summer camp. There are ten different styles to choose from, including walking shoes, deck shoes, sandals and slip-on mules that pack away easily for travel. Sizes range from 3 months to 13 men. There's even a shoe with tougher soles designed for kids who like to play hard.
Native shoes are made with lightweight, soft and flexible materials and do not absorb water or odors. They're hand washable and come in a rainbow of colors, bold patterns and eye-catching bling. The Stars & Stripes Jeffersons (one shoe in blue with white stars and the other with red and white stripes) in both adult and child sizes are fun for the fourth, and Native Shoes has teamed up with Disney to introduce playful designs Mickey and Minnie. The Straight Wharf store even offers an exclusive Nantucket collection: designs that are not available anywhere else.
And the company, with its footwear and activism, is dedicated to helping the planet. Beth Lloyd-Thomas, Retail Manager, explained how Native Shoes, the company and the products, "make it easy to live lean." Two of Native Shoes' main goals are to do the right thing and practice "mini-activism", which they aptly describe as "creating a better world, one small step at a time". They encourage innovative ideas ("ask more and if"), and while they are serious about their endeavors, they don't want to take themselves too seriously. This eco-conscious company does everything it can "to have less of an impact on our world," Beth explained, "We try to do the right thing for our environment and for people."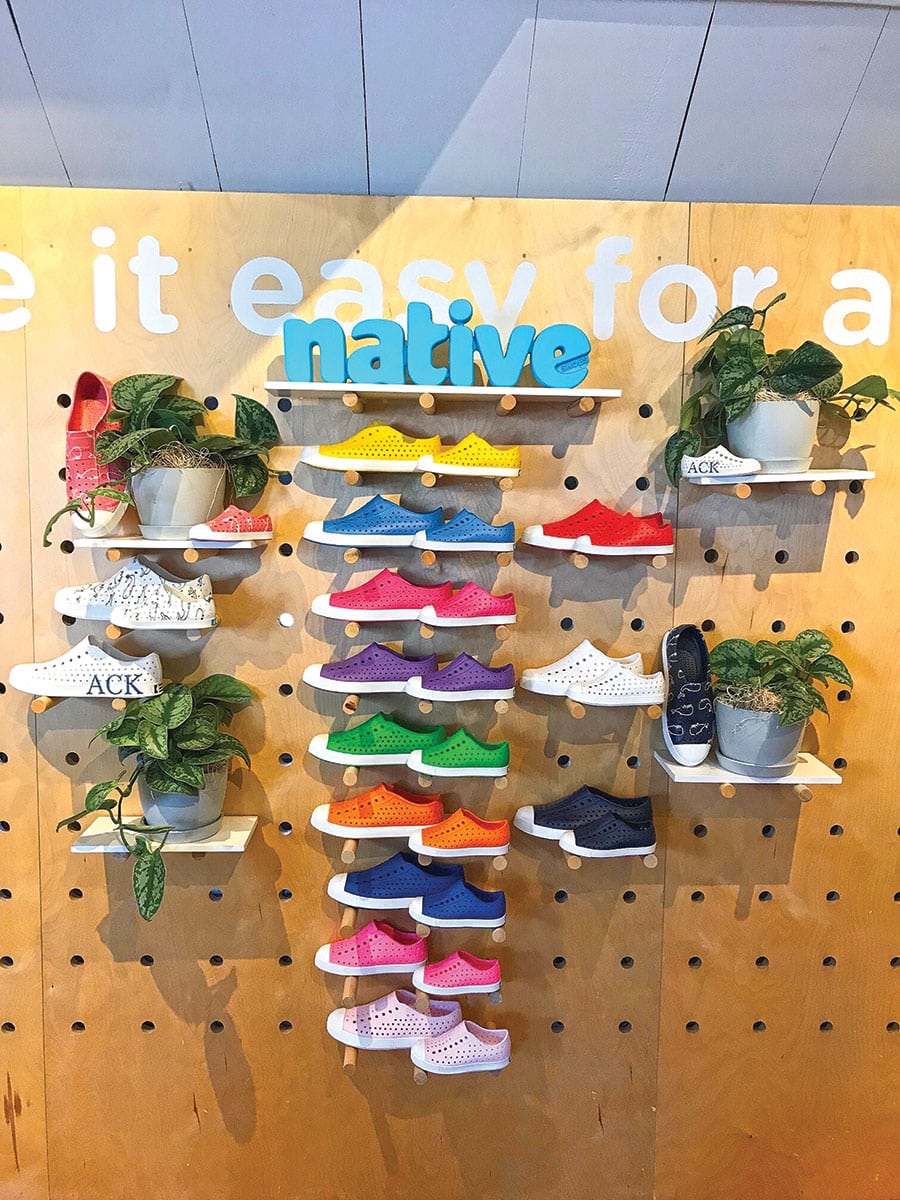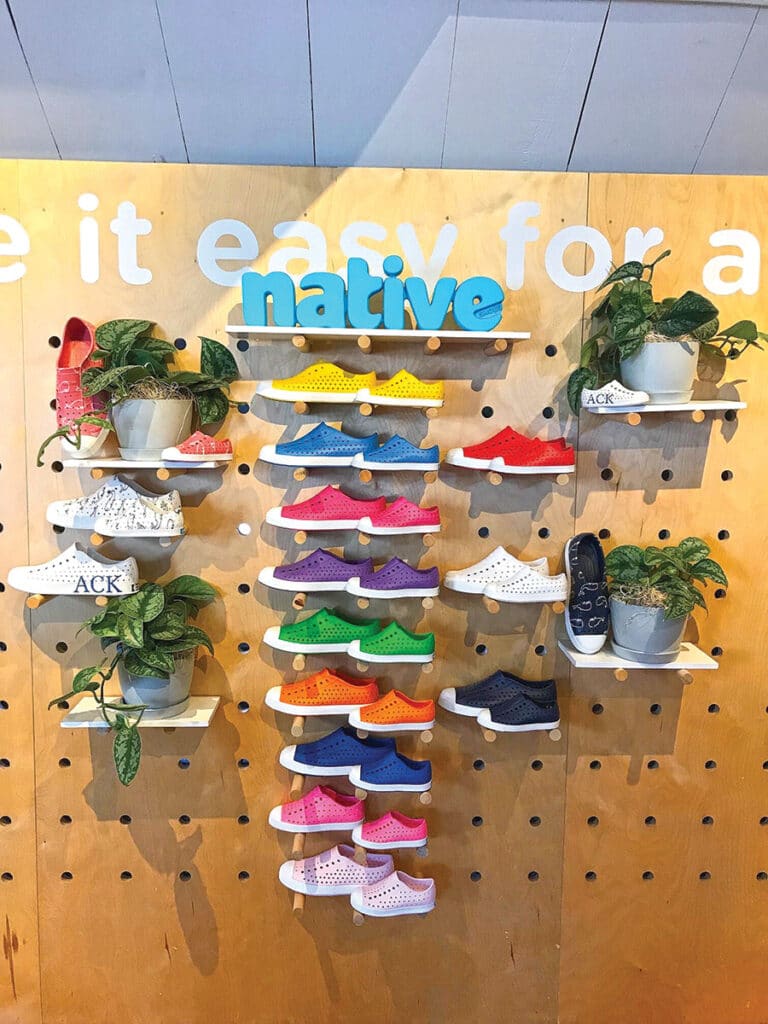 Native Shoes Remix™ Project is the brand's flagship sustainability initiative. Through a proprietary regrind process, Native Shoes' unique composition is transformed into a versatile, colorful material that is used in the creation of comfortable seating, inflatable playground flooring, insulation and other products. using recycled native shoes. So far, over 35,000 shoes have been converted to help build five new playgrounds. On the weekend of August 13-14, Beth will host a community-wide event at the Nantucket store, where people are encouraged to bring their old shoes – any brand – to recycle and get a coupon. 10% off a new pair of Native Shoes.
Bloom is another innovative program to help the environment that Native Shoes has launched. This involves Rise Technology, a manufacturing process that integrates repurposed toxic algae swept up from lakes and freshwater ecosystems into the lightweight EVA upper of shoes in their Bloom collection. The effect is to clean up to 80L of water and 50m3 of air per pair!
In addition to these actions to ensure a positive future for people and the planet, over the past two years Native Shoes has worked with a group of third-party experts to understand their climate footprint and how they can live more lightly on the planet. .
Their iconic Jefferson is already one of the lowest impact shoes on the market, with only 3.85 kg of CO2e per pair. Every time you buy a pair of Native Shoes, you are saying no to higher impact options, with footprints of 10, 15 or even 20 kg CO2e. Native Shoes strives to share its dream with others in the footwear industry: to one day create a shoe with a footprint of less than 2 kg CO2e per pair.
Not only can customers feel good buying Native Shoes, but Native Shoes feels good! Comfortable, light and breathable, they are ideal for summer pleasures. They go from land to sea with ease (they're ideal beach and boat shoes), as Beth commented, Native Shoes "are happiest by the water."
Sized for kids and for adults, the Jefferson is a Native Shoes classic and is also available in Jefferson Bloom, made with the company's Rise by Bloom technology. Ava Bloom is their slip-on mule that helps clear waterways with every step. The new line of Native Shoes sandals in five different styles are available in the Nantucket store, along with all Native Shoes styles.
As durable as they are stylish, Native Shoes are a staple for summer fun for the whole family on Nantucket Island.
Native Shoes is open daily at 40 Straight Wharf
and online at nativeshoes.com • 508-221-7223