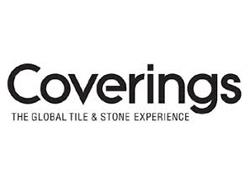 Coverings announces tile trends for 2022
Arlington, VA, February 22, 2022 – Coverings, North America's largest international tile and stone exhibition and conference, has announced the top ten tile trends for 2022. The tile trends were compiled and predicted by three major international tile associations and Coatings sponsors, Ceramics of Italy/Confindustria Ceramica, Association of Ceramic Tile Manufacturers of Spain (ASCER)/Tile of Spain and Tile Council of North America (TCNA) .
The Tile Trends release commemorates National Tile Day, February 23, 2022, celebrating the beauty of tile. Trends also offers a preview of immersive tile displays at Coverings 2022, taking place April 5-8 at the Las Vegas Convention Center in Las Vegas, Nevada.
Alena Capra, owner of Alena Capra Designs, Certified Master Kitchen and Bath Designer and spokesperson for Coverings, along with a panel of tile industry insiders, will showcase this year's unique new trends in tiling from around the world during the Coverings Connected "2022 Tile Trends" webinar, February 23, 11am-12pm EST. The live session will explore this year's ceramic tile trends in Italy, America of the North and in Spain, which will be discussed and presented for residential, commercial, hotel, interior and exterior applications.
The following tile trend roundup provides an overview of the newest and trendiest styles that will be reviewed at the Coverings Connected digital event on February 23 and in person at Coverings 2022, April 5-8, 2022 at Vegas.
Baroque Tile Trend: In the 17th century, the Baroque style dominated European art and architecture, defined by a sense of movement and grandeur. Likewise, these tiles are full of exuberance, especially when produced on floor-to-ceiling porcelain slabs. Many tile manufacturers produce spectacular marble looks with striking colors and thick veining, while others offer luxurious tiles with gold details and reflective surfaces.
Low Relief Tile Trend: From rounded edges that simulate ancient stone to bas-reliefs that add depth and structure, makers have invested heavily in new technologies in the past year to create ceramic and porcelain tiles that step through the third dimension .
Captivating Colors Tile Trend, with three palettes:
• Celebrating ceramics in color: The industry is returning to some intriguing classics from centuries past. These are ceramics that do not try to imitate anything, but rather honor the rich, artisanal history of this material and this industry, such as patinated edges, classic glaze techniques and traditional patterns. . This celebration of ceramic roots plays beautifully with previous trends and is often seen in muted color tones like dusk-toned greens, peachy and brown terracotta hues, creamy tans, sandy beiges and even beige. Santorini blue.
• Earthy jewel tones: Due to the pandemic quarantine, the world is ready to invite more natural colors into the home and on the walls. Jewel tones that can be found in nature, including amber, brick, emerald and aquamarine hues, are popular palettes for tiles in 2022. Leafy greens and rich clay colors give us a grounded connection to the outdoors.
• Pastels: In keeping with a pervasive sense of romance, ceramic manufacturers incorporate pastel colors like sage, mint, rose and sky blue into their collections, which add a soothing and organic effect to interiors. These hues also fit into broader industry color trends such as colors of the year.
Crisp and Clean Tile Trend: During this new era of ceramic design, a more delicate approach will run alongside handcrafted textures and organic materials. Soft compositions, muted textures and minimalist patterns will bring a sense of balance. The apparent dissonance in style serves to highlight and praise differences by showcasing unlikely pairings across designs and the harmony that can be found.
Golden Arches Tile Trend: The curved shapes of arches and gently rounded rectangles that characterize art deco design find a place in the design language of 2022. A nod to organic forms while retaining the straight gridlines of a tile matrix, these curves bring a sense of whimsy and accessibility to even the most austere and luxurious aesthetics.
Mural Tile Trend: With extra-large formats and ultra-thin profiles, ceramic tiles are becoming an increasingly attractive alternative to wallpaper. Many manufacturers offer extensive portfolios of patterns to choose from, including large florals and historic patterns like toile, chinoiserie, and damask, showcasing designers' artistic abilities combined with the enduring benefits of porcelain.
Plaster Look Tile Trend: Thanks to the current trend towards nature and earthy elements, textured wall treatments are enjoying a resurgence. Most notably, the texture appearance and subtle color variations replicate the artistic layering of plaster. The plaster look brings immediate warmth and richness to the walls as well as an artisanal touch.
Polarized Marble Tile Trend: While white marbles still reign supreme, the fierce aspect of the stone of the past takes precedence over the refined spectrum of the marbled aspect. This new approach retains the organic variation of a veined stone with a more seamless overall aesthetic with a symphony of texture, finish and effects.
Shape Scale Tile Trend: As last year brought oversized hexagons, 2022 brings various other oversized shapes, such as triangles, rhombuses and parallelograms, as well as their counterparts, hexagons and pocket polygons. Configured in eye-catching patterns, these varying scale shapes offer a contemporary twist on a classic design element. They are the perfect complement to standard square and rectangular field tiles.
Hot Stone Tile Trend: The look of stone is a great way to add a natural look and texture to a space. With the general warming up of color palettes in recent years, it should only follow that the appearance of stone is also warming up, in terms of colours.