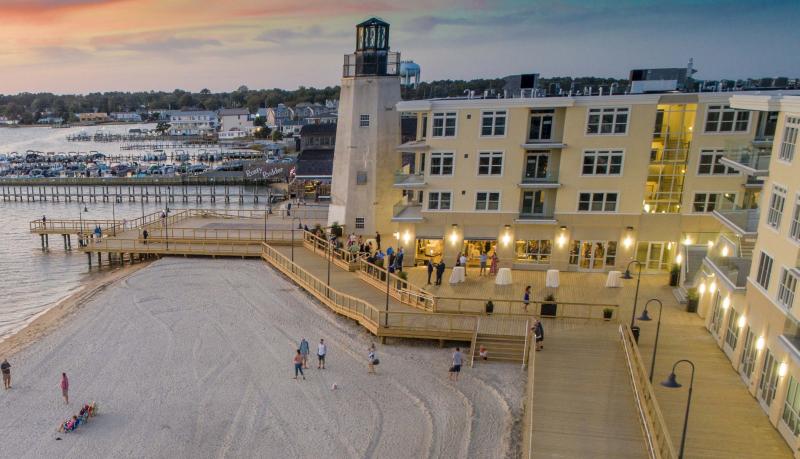 Dewey Beach Enterprises agreement extended by one month
Dewey Beach Commissioners tabled a vote to accept a Fifth Amendment to the Mutual Agreement and Release between Dewey Beach Enterprises and the town that would remove DBE's retail space requirement.
Based on discussions at the executive session of the Dec. 17 Commissioners' meeting, Mayor Bill Stevens said the lawyer advised the commissioners to postpone the vote to work out the details, so a vote will be taken. at the January 21 meeting.
The Fifth Amendment to MAR would remove the requirement for DBE to have 4,000 to 8,000 square feet of retail space originally planned on the first floor overlooking the Baywalk.
In the meantime, the commissioners voted to allow General Manager Bill Zolper to extend the temporary use of space in the structure as event space from its deadline of December 27 to January 27, 2022, as a sign of good faith, Stevens said.
Speaking on behalf of DBE, attorney Vince Robertson said he hoped to shut down the MAR, which he said was unintelligently drafted about 10 years ago, with a fifth and final amendment striking down the retail requirement.
DBE currently pays the city $ 37,500 per year, Robertson said, and would be prepared to increase the annual payment from $ 5,000 to $ 42,500, with the hope that the additional funds will be used for beautification efforts.
The original MAR cited a spa, gym, restaurant or other public attractions as possible retail establishments, Robertson said, but the area is not a commercially viable location.
In the Ruddertowne complex, which predated DBE's residences, hotel, restaurant and event center, retail businesses failed, Robertson said, with high turnover and lined storefronts.
DBE tried to lease the retail space, with no success, Robertson said, possibly due to rental rates reflecting the high-end project.
"You can't have this juxtaposition with cheap t-shirt stores, candy stores," Robertson said. "Things like that won't work because they can't pay the rent, and there isn't enough foot traffic there."
Rather than remain a vacant storefront, Robertson said, the space would be better used as breakout rooms for the conference center.
The city would only lose the annual retail license fee of $ 273, and the hotel contributes far more than that to the local economy, Robertson said.
The agenda for the January 21 Commissioners meeting has not yet been established.