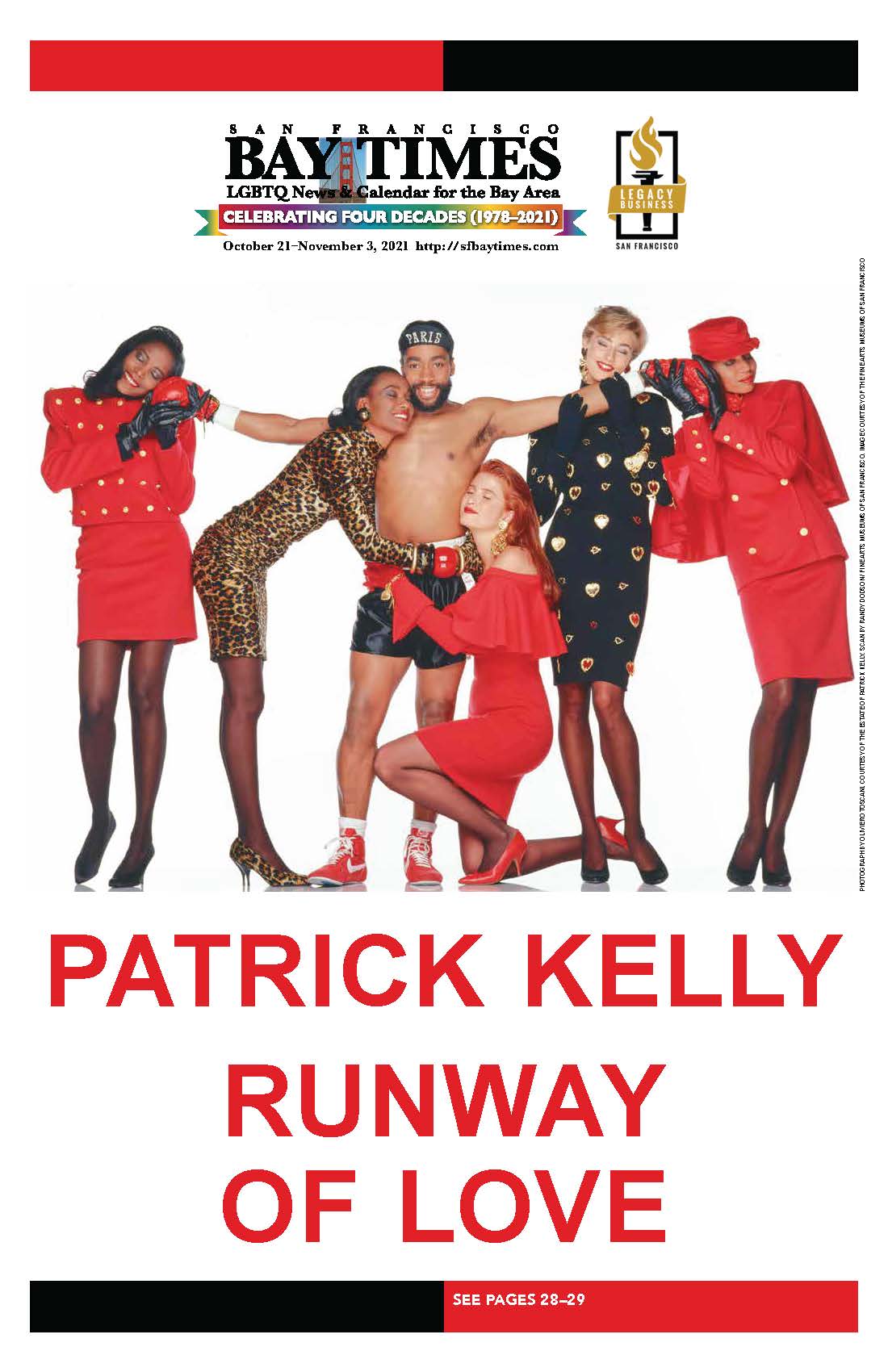 FAMSF curator reveals life and legacy of groundbreaking fashion designer Patrick Kelly – San Francisco Bay Times
Famous fashion designer Patrick Kelly (1954-1990) was only 35 when he succumbed to AIDS, yet his work often seems as dynamic and pushing the boundaries today as it did during his lifetime. over two decades ago. Her message of enduring love, which boldly affirmed black empowerment and fearlessly pushed the boundaries of fashion, is evident in the exhibition. Patrick Kelly: the trail of love, which will be visible from October 23, 2021 to April 24, 2022, at de Young.
"I want my clothes to make you smile," said Kelly, who was born in Vicksburg, Mississippi, and developed an upbeat and creative outlook despite the many challenges he faced as a young black gay raised primarily by his mother and grandmother after the death of her father. death in 1969. Kelly briefly attended Jackson State University in Mississippi before moving to Atlanta and then New York. With an anonymous plane ticket in hand, he arrived in Paris at the age of 25.
In the City of Light, he spent several years as a freelance designer before, in 1985, creating the business and fashion line Patrick Kelly Paris with his business and life partner Bjorn Guil Amelan. Together, they took on the world with clothes that not only became known internationally, but also representative of her personal expression that fearlessly approached darkness, systemic racism and the queer experience.
Members of our San Francisco bay weather the team is eagerly awaiting the arrival of Track of love, which was announced during the closure of the COVID-19 pandemic. Now, with the museum open and the warrants lifted, the exhibit will showcase Kelly's captivating work to West Coast audiences. He will highlight nearly 80 of his memorable creations.
"The de Young Museum has always been committed to showcasing the world's best fashion designers, and we couldn't be more thrilled to showcase Patrick Kelly: the trail of love to our audience, "said Thomas P. Campbell, Director and CEO of the Fine Arts Museums of San Francisco. "Kelly was a pioneering artist who created an extraordinary range of designs during her lifetime. Everyone should know the name of Patrick Kelly and we hope this exhibit will do just that. "
Although black fashion designers continually pushed back the barriers in the industry, Kelly was a true trailblazer. His daring and luminous creations stood out in the streets, in nightclubs and especially on the catwalks. This extraordinary vision allowed Kelly to become the first American designer and the first black designer to be elected to the Chambre Syndicale du Prêt-à -Porter des Couturiers et des Créateurs de Mode, a prestigious French association of ready-to-wear designers. carry. Perhaps most remarkably, Kelly has been recognized with such accolades while being and remaining one of the few designers to have directly addressed issues of race in her work.
The exhibition places Kelly and her creations in the larger context of art and fashion history by taking an in-depth look at her inspirations. Through seven different sections, he explores his influences, including his black heritage, memories of his childhood in the South, his experiences in clubs and gay cultural scenes in New York and Paris, and his art muses. , fashion and black history.
We recently learned more about Kelly and Track of love thanks to Laura L. Camerlengo, associate curator of costume and textile arts at the Fine Arts Museums of San Francisco and presenter curator of the exhibition.
San Francisco Bay Times: It's remarkable how self-taught Patrick Kelly was and had such an early vision of what he wanted to do. Who were his main mentors during his childhood and formative years, and how did they influence him?
Laura L. Cameroonian: Patrick Kelly was born and raised in Vicksburg, Mississippi, by strong women. His mother taught him to draw and an aunt taught him to sew. In several interviews, he recognized his grandmother as the "backbone" of his aesthetic. The styles worn by members of his church community were also a source of inspiration; he would often say: "The Black Baptist Church on Sundays, the ladies are as fierce as the ladies at the Yves Saint Laurent haute couture parades."
San Francisco Bay Times: Vintage clothing stores were particularly popular in the 1970s. Kelly showed great initiative by opening her own store in Atlanta. Do you know how long he owned the store and what kind of vintage fashion appealed to him the most at the time?

Laura L. Cameroonian: The curator of the exhibition, Dilys Blum, highlights Patrick Kelly's stay in Atlanta in her catalog essay. Kelly opened a small boutique, called Moth Ball Matinee, shortly after moving to Atlanta in 1974. There he sold old and second-hand clothing, as well as remodeled clothing and his own designs.
San Francisco Bay Times: Did he ever discuss or later write about the issues he likely encountered growing up as a young gay, black, and young man in Mississippi? If so, are there any specific stories you could share?
Laura L. Cameroonian: Yes, Patrick Kelly has known racism, and has recounted his experiences with racism, throughout his life. Her former business and life partner, Bjorn Amelan, continued to share these stories following Kelly's death. For example, Patrick Kelly's childhood textbooks were white school books, filled with racist notes for their future readers. Kelly had to flip through blackface images to study, a painful memory that stuck with her all her life.
San Francisco Bay Times: Has it ever been determined who gave him (anonymously) his first one-way ticket to Paris in 1979?
Laura L. Cameroonian: Yes, model and superstar Pat Cleveland bought her her one-way ticket to Paris in 1979. She hooked up with Patrick Kelly in New York and saw that he was struggling to get there as a designer. . In an interview, which we shared in the exhibition catalog, she recalled: "People helped me, I thought – that's why I gave her the ticket – so why not help each other to make our dreams come true? We just need someone to believe in us, and Patrick has kept that dream alive for many years to come. "
San Francisco Bay Times: Bjorn Amelan is a remarkable person in his own right. How did he and Kelly first meet?
Laura L. Cameroonian: Bjorn Amelan and Patrick Kelly met in 1982. At the time, Amelan was a photographic agent for such luminaries as Horst P. Horst and William Klein. They met in designer Willi Smith's showroom in New York. Kelly and Amelan reconnected in Paris in 1983, and became business and life partners thereafter.
San Francisco Bay Times: How did Kelly first meet Gloria Steinem? She seemed to play an important role in establishing his international career.
Laura L. Cameroonian: As Dilys Blum details in our catalog, Patrick Kelly was introduced to Gloria Steinem by New York television producer Carla Morgenstern. Kelly had bonded with Morgenstern through Ellie Wolfe, whom he had met while living in Atlanta from 1974 to 1978. It was Gloria Steinem who introduced Kelly to Linda Wachner, President and CEO of Warnaco, the company that would later finance his brand. Steinem also interviewed Patrick Kelly on the Today spectacle.
More poignantly, Gloria Steinem gave a beautiful eulogy in honor of Patrick Kelly during her memorial service at the Fashion Institute of Technology, New York, in 1990. She said: "It was a stranger who brought the exterior with him and then eliminated the exterior / interior divide for everyone. He unified us with buttons and knots, tassels and fringes, instead of dividing us with gold and jewelry. In his presence, the "not powerful enough" felt hope, and the "too powerful" felt humanity. "
San Francisco Bay Times: What are some of your favorite pieces in Patrick Kelly: the trail of love? Please share why these pieces resonate with you, or otherwise seem remarkable to you.
Laura L. Cameroonian: It's hard to pick a favorite design, much like asking me to pick a favorite kid! But my dear and late friend and colleague, Monica Brown, who was the instigator of this exhibition, was a huge fan of Patrick Kelly's woolen suits, both professional and whimsical. In his honor, I will name them as my "favorites".
San Francisco Bay Times: How many pieces / sets are new in the exhibit, coming from FAMSF? Have these objects been exhibited before? And please describe some of this outfit.
Laura L. Cameroonian: The San Francisco Art Museums were honored to receive several of Patrick Kelly's creations from two of Kelly's former colleagues: Elizabeth "Ms. Liz" Goodrum, Kelly's longtime assistant; and Audrey Smaltz, a famous runway producer who also coordinated Kelly's lively presentations. Clothing that will be featured in our exhibit includes a "Jailhouse Rock" themed gray and black striped knit dress donated by Goodrum and a bubble gum pink quilted coat printed with small black artist and activist images. of American origin Joséphine Baker, offered by Smaltz. Several pieces of jewelry, donated by Goodrum, will also highlight many of the sets loaned to us by the Philadelphia Museum of Art.
the San Francisco Bay weather; What do you think is Kelly's lasting legacy in the world of fashion and the arts? Like Keith Haring, he seemed to be such a man of his time, yet unique and timeless.
Laura L. Cameroonian: Patrick Kelly's style signatures, such as his use of tubular knits to form body-conscious styles, are now part of the fashion lexicon. Since his passing, the designer himself has been a symbol of hope and a rallying cry for other black fashion professionals, as seen recently with The Kelly Initiative. ( https://thekellyinitiative.net/ )
San Francisco Bay Times: It's touching that the controversial image of golliwog he used in his work – taking control of this derogatory symbol – is on his gravestone with the image of a heart. Was it his decision? Or maybe Amelan's?
Laura L. Cameroonian: Yes, Bjorn Amelan took inspiration from Patrick Kelly Paris' signatures for the gravestone imagery, including the house's golliwog logo and the heart-shaped button. But it is the epitaph that perhaps best embodies the creator and his heritage: "Nothing Is Impossible".
San Francisco Bay Times: Please mention anything you would like our readers to know.
Laura L. Cameroonian: Presentation of our museums Patrick Kelly: the trail of love marks the first time that the work of Patrick Kelly will be presented by a museum on the west coast. We have been joined in this endeavor by many friends, colleagues and collaborators of Patrick Kelly; emerging researchers, such as our research consultant, Dr. Sequoia Barnes, and established academics; and various members of the Bay Area community. We are excited to share Patrick Kelly's significant contributions to fashion and his lasting legacy with our audiences.
Posted on October 21, 2021