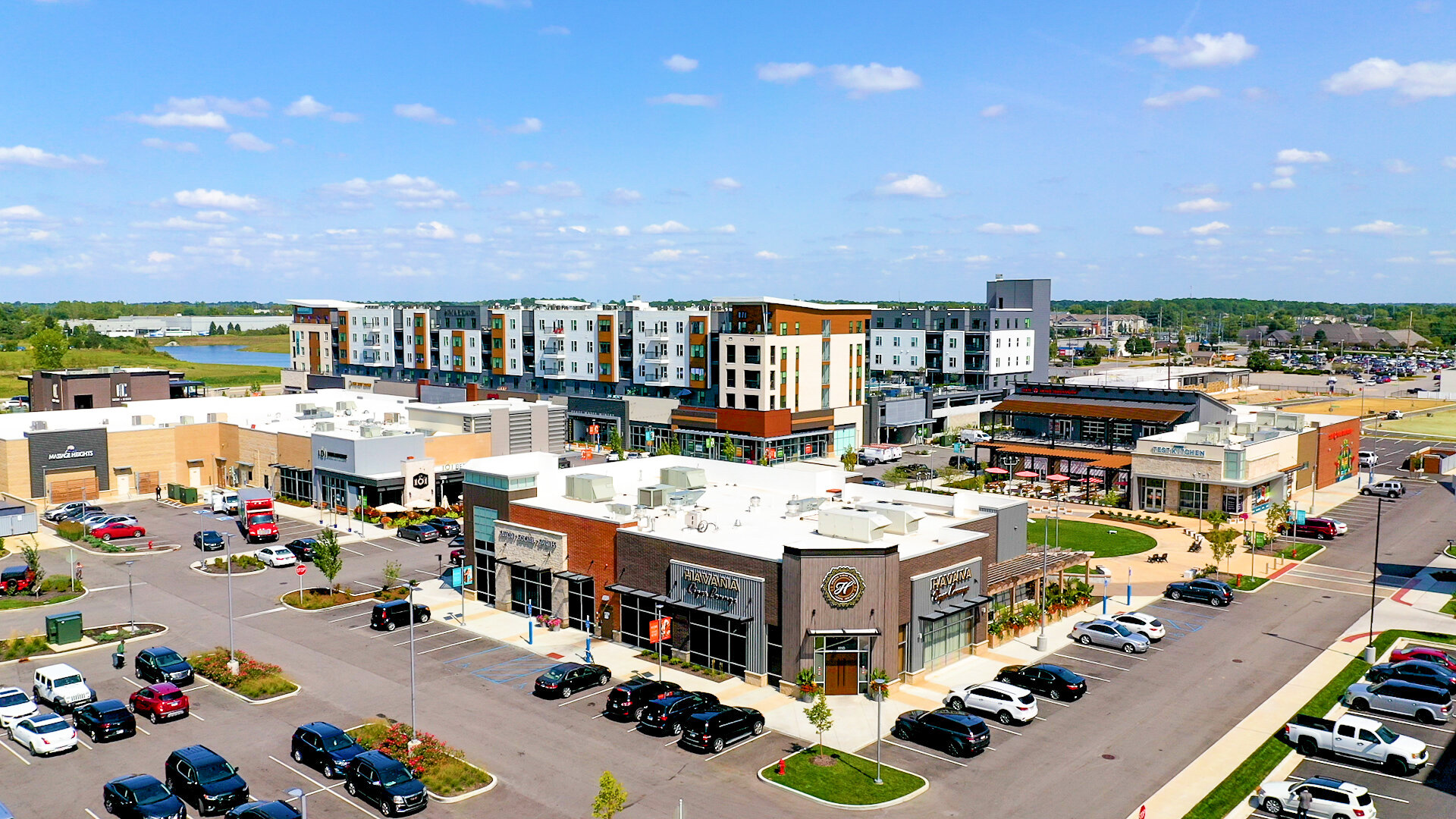 Fishers District commercial area, apartments sold to Chicago company under "historic" deal
Fishers District, one of the fastest growing retail and restaurant areas in the Indianapolis area, was acquired by a Chicago-based company in a real estate transaction that also includes a complex upscale 260-unit apartments.
Thompson Thrift, based in Terre Haute, who developed the 18-acre property south of 96th Street just east of Interstate 69 in Fishers, announced Monday that it has sold the property to JVM Realty Corp.
The sale included The Mark at Fishers District apartments and 105,000 square feet of fully leased retail and restaurant space in multiple buildings. The acquisition did not include the HC Tavern or the six-story, 145-room Hyatt Place / Hyatt House hotel.
Financial terms of the sale were not disclosed.
"We are delighted to have the opportunity to facilitate the sale of this historic property which has attracted nationwide investor interest and achieved record prices," said Hannah Ott, Vice President of Cushman & Wakefield , which helped facilitate the sale.
Thompson Thrift began construction on the $ 110 million project in early 2018, with the help of incentives from the city. He began planning for the project, originally called The Yard at Fishers District, in 2015 through a collaboration of his three internal teams, including the retail group, construction and its multi-family arm, Watermark Residential. More than 20 houses have been acquired and demolished to make way for development.
Retail and restaurant tenants in the Fishers neighborhood include Fishers Test Kitchen, Shake Shack, Sun King Brewing Co., Sangiovese Ristorante, 1933 Lounge by St. Elmo, Rize, Chicken Salad Chick, Rise and Roll Bakery, Bibibop Asian Grill, Kincaid's Meat Market, Pet People, Sangrita Grill + Cantina and Tropical Smoothie Cafe.
The property has been strategically developed just down the street from Ikea and Topgolf.
The Mark at Fishers District, which opened in early 2020, offers luxury apartments with rents ranging from $ 1,155 to $ 3,960 per month.
George Tikijian, a broker with Cushman & Wakefield's Indianapolis real estate team who orchestrated the deal, said the sale of the property "has always been Thompson Thrift's plan".
"They have generally, but not universally, been primarily developers," he said, adding that the company often sells its properties once they are completed and at critical mass.
Jay Madary, president and CEO of JVM Realty Corp., said the investment "fits perfectly" into the company's high-end portfolio in the Midwest.
"The Mark and Fishers District offers an unparalleled investment opportunity in a bustling, high-income suburb of Indianapolis," he said in written remarks.
JVM also owns three other properties in central Indiana, including the Circa Apartments in downtown Indianapolis and Prairie Lakes in Noblesville.
The company plans to use its in-house management team for the residential component and plans to hire an outside company to manage the retail and restaurant spaces, he said.