God of War Ragnarok Jotnar Edition listings flood eBay after rapid US sale
The premium edition of God of War Ragnarok went on sale in the US on Friday, where it was available for less than 15 minutes before selling out.
At the time of writing, there are hundreds of listings on eBay US for the Jotnar Edition, selling for between $400 and $500. Officially, the edition sells for $260.
The God of War Ragnarok Jotnar Edition, which includes several collectibles such as a 16-inch Mjölnir replica, first went on sale in Australia for $399.99 AUSD, but sold out instantly.
It would then go on sale in the UK, where it was briefly available from UK retailer Game for £220. Customers were unable to purchase the item 2 minutes after it went on sale.
The item, which is currently listed on Ebay at up to three times its RRP, was added to various US retailers including Walmart, PlayStation Direct and GameStop on Friday, but apart from a small amount of stock that was added to Walmart about 90 minutes after preorders opened, it was also difficult for gamers to get their hands on.
God of War Ragnarök – "Father and Son" Cinematic Trailer | PS5 and PS4
While the God of War Ragnarok Jotnar edition has launched in the US on PlayStation Direct, the UK version on Sony's storefront hasn't opened for pre-orders yet, although it's expected on Friday. The website still lists the item as "coming soon", but it's unclear when or if PlayStation Direct will deliver the item in the UK.
A Collector's Edition of the game, which also includes a 16-inch Mjölnir replica, but not the 7-inch vinyl, has also gone on sale, and faces a similar scalping issue, although it is not being sold. at the same price as the Jotnar edition.
Retailer listings for the game revealed several new features, including supported graphics modes on PS5. "Toggle between full 4K resolution at targeted 30fps or dynamically scaled 4K resolution at targeted 60fps," reads the product description on the retail sites.
The full list of items included in the God of War Ragnarok Jotnar Edition is as follows: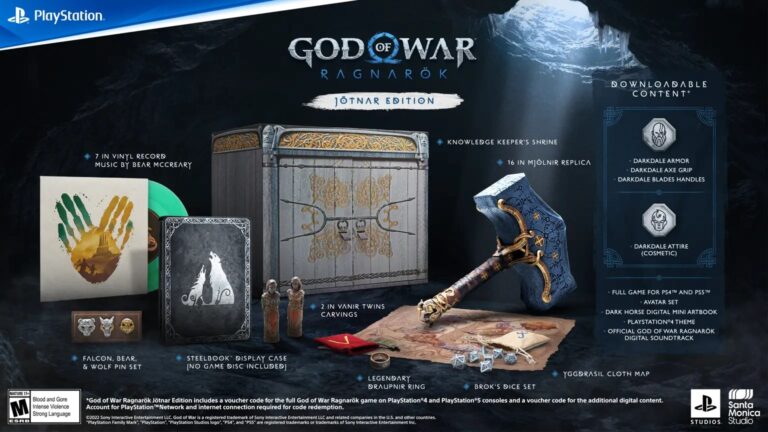 Promo code printed for the full game God of War Ragnarök on PlayStation 4 and PlayStation 5 consoles.
7 inch vinyl record with music by Bear McCreary – This includes two tracks by composer Bear McCreary.
The Falcon, Bear and Wolf Pin Set – Depicting Faye, Kratos and Atreus respectively, this pin set symbolizes the family of our heroes.
The Legendary Ring of Draupnir – A ring from Norse mythology, the Legendary Ring of Draupnir comes in a red cloth bag.
Brok's Dice Set – This dice set comes in a metallic silver finish with blue detailing. The dice bag is branded Huldra Brothers.
Yggdrasil Cloth Map – This cloth map shows each of the nine realms in the Branches and Roots of Yggdrasil.
A Steelbook showcase (no game disc included)
2″ Vanir Twin Sculptures
16″ Mjolnir Replica
Kratos Darkdale Armor
Atreus Darkdale Outfit (Cosmetic)
Darkdale Blades grips for Blades of Chaos
Darkdale ax handle for the Leviathan ax
God of War Ragnarök Official Digital Soundtrack
Dark Horse Mini Digital Artbook
avatar set
Playstation 4 Theme