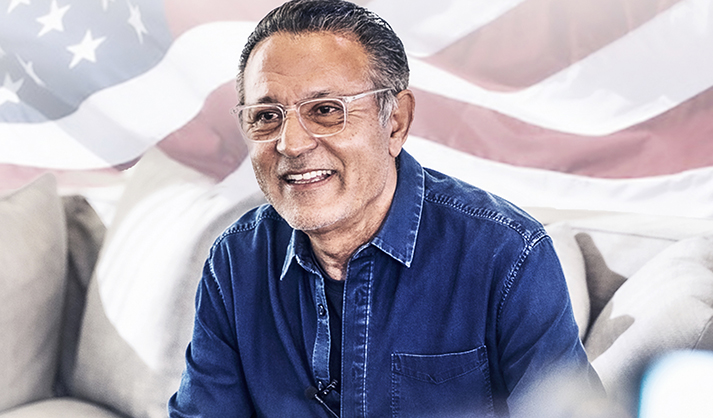 SIFF and the Jewish Community Present the Sedona Jewish Film Festival November 5-7
The Sedona International Film Festival is proud to partner with the Jewish community of Sedona and the Verde Valley to present the Sedona Jewish Film Festival November 5-7 at the Mary D. Fisher Theater. The program will feature five award-winning feature films from around the world.
iMordecai – Opening Night Film
Saturday, Nov. 5, at 7 p.m.
Opening night kicks off with a heartwarming comedy based on a true story – "iMordecai" – featuring Oscar-nominated actor and two-time Emmy winner Judd Hirsch (star of the sitcom "Taxi", "Ordinary People ," "Independence Day"), alongside Oscar nominee Carol Kane ("Hester Street") and Oscar nominee Sean Astin ("Lord of the Rings").
Marvin is an ambitious cigar maker trying to support his own family while still being there for his aging parents, Mordecai and Fela. When Mordecai's old flip phone breaks down, he begins taking lessons on his new iPhone, opening it up to all kinds of new experiences and adventures, which makes him feel like a kid again. .
"iMordecai" is an uplifting comedy that urges us all to fully live the life we ​​have.
WET DOG
Sunday, Nov. 6, at 4 p.m.
Solheil was 15 when his Jewish-Iranian family moved to Wedding, one of Berlin's multicultural, predominantly Muslim neighborhoods. As the other kids listen to hip hop music, and the Wedding Tigers gang dominates the town with their graffiti and starts fights with other local crews, eager to fit in, Soheil hides his true origins. At night, he becomes the King Star writer, covering the city with colorful tags and murals; during the day he flirts with Selma – one of the cool girls.
Until the day when Soheil's gang of friends decide to rob the local "Jewry", as they call it, run by none other than Soheil's parents. This is when Soheil must embrace who he is and where he comes from, with regular visits to the local library to learn more about Judaism.
Based on a provocative autobiography written twenty years ago, "Wet Dog" raises questions of cultural diversity, religious identity and their intersection with friendship, especially during the phase of brutality and exploration that is adolescence.
BERENSHTEIN
Sunday, Nov. 6, at 7 p.m.
The last surviving member of the Great Followers who located Hitler's secret weapon, the V2 Missile Development Facility, revisits his past as a soldier in World War II. Diving into his traumatic memories, he is forced to deal with the dissociation and loss of identity that followed the war. Despite this adversity, it becomes clear that he is able to stay true to his values ​​through it all. Based on the true story of Leonid Berenshtein.
THE WAVING HUNGARIAN
Monday, November 7 at 4 p.m.
Director Tom Weidlinger traces the footsteps of his famous father Paul Weidlinger around the world, from his early childhood in Budapest to the founding of an internationally renowned structural engineering company in the United States. Paul Weidlinger has collaborated with some of the world's most celebrated architects and artists to create brilliant, innovative buildings influenced by Bauhaus and modernist design and based on his own dance-inspired "joy of space" philosophy. .
Told through hand-drawn sketches, archival footage, photographs, letters, paintings, songs and dramatic re-enactments, this documentary paints a vivid portrait of the challenges Paul Weidlinger overcame as a refugee who fled Europe for Bolivia and eventually the United States during the Holocaust. While celebrating his accomplishments and legacy, Weidlinger tackles his father's involvement in building Cold War missile silos as well as his family's history of mental illness, particularly the stories tragedies of his mother, his sister and his nephew. Few people know that Paul Weidlinger founded his own engineering company to pay for the cost of the mental institution where his first wife had been committed.
With readings from his memoirs, The Restless Hungarian: Modernism, Madness, and the American Dream, Tom Weidlinger powerfully uncovers his father's secrets.
This special screening of "The Restless Hungarian" will be followed by a Zoom Q&A with director Tom Weidlinger, hosted by Rabbi Alicia Magal.
THE UNITED STATES OF ELIE TAHARI
Monday, November 7 at 7 p.m.
Fashion designer and mogul Elie Tahari has been living the American dream for over 50 years. He came to New York in 1971 from Israel with less than $100, slept on benches in Central Park, and went on to build a billion-dollar fashion empire. There are thousands of fashion companies in the world, but only three have lasted more than 45 years in the world and are still led by their founders: Giorgio Armani, Ralph Lauren and Elie Tahari.
"The United States of Elie Tahari" is the first documentary ever made on Elie Tahari. Filmed in 2020, this highly anticipated documentary chronicles Elie Tahari's life from birth and origins (born in Israel to Iranian parents) through all of his accomplishments and legacy. Part of the documentary is also dedicated to Tahari's creative process and his endurance in the fashion world.
Several fashion personalities such as Fern Mallis (aka The Godmother of Fashion), Melissa Rivers, fashion designers Nicole Miller and Dennis Basso, Arthur S. Levine, Wallstreet Journal fashion journalist Teri Agins, as well as music Disco, the models, Studio 54 and more, are part of the film.
The Sedona Jewish Film Festival is presented by the Sedona & Verde Valley Jewish Community Cultural Committee and the Sedona International Film Festival.
Tickets for each show are $12 general admission or $9 for Film Festival members. For tickets and more information, please call 928-282-1177. The theater and film festival office is located at 2030 W. Hwy. 89A, in West Sedona. For more information and to order tickets online, visit SedonaFilmFestival.org.
Information provided by SIFF.