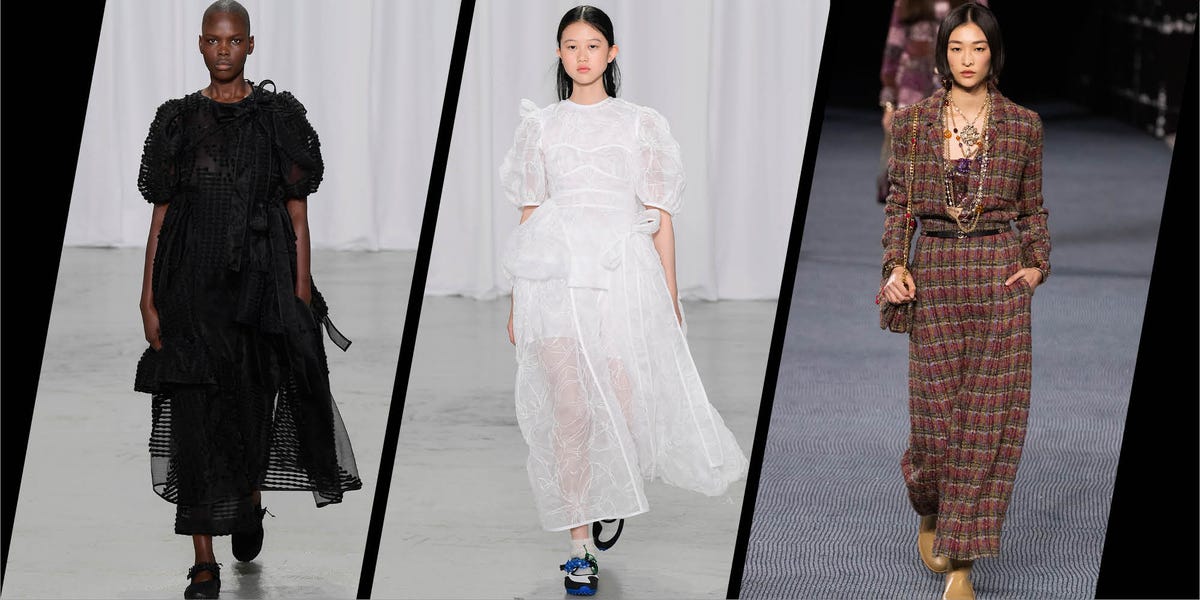 The best midaxi dresses to buy this summer
Midi, maxi and mini – three hemlines we know you already have snagged in your wardrobe. Yet there is one more that has caught our attention over the past few seasons, the midaxi. It doesn't need much explanation, but this length falls between maxi and midi – just above the ankle and an inch below mid-calf.
The look first caught our attention in 2019, as brands such as Givenchy, Alexander McQueen and Marc Jacobs embraced the trend. And, it looks like the midaxi is here to stay, as most recently on the Fall/Winter 2022 catwalks, designers were once again incorporating length, seen at Cecilie Bahnsen and Chanel.
Bahnsen, a fashion favorite, says she loves the wearability of the midaxi, which is why she included it in her latest collection.
"For me, the midaxi has an everyday look and it's easier to wear it than long," notes the designer. "I love the femininity and the fit at the ankle – for summer it works barefoot and sandals for a light look. Then comes winter it works so well with thick socks and a trainer for a more utilitarian feel. It's very versatile, which is why I love it. You can wear it over jeans and have that little detail that's super cute.
It's not just designers who love length, shoppers also value style. Net-a-Porter reports that sales of the midaxi have increased significantly since last year, with top performers including Zimmermann and Saloni on the hem. The retailer is also launching new brands Alémais and Cara Cara for summer, emphasizing floral prints, patterns and embroidery, many of which feature on midi-length skirts and dresses.
"I think the versatility of midaxi dresses is what makes these styles a hit with our customers," says Libby Page, senior market editor at Net-a-Porter. "Whether dressing up as a wedding guest, for work, or for a casual night out, clients can style the midaxi up or down, making it a must-have no matter what's on your agenda. ."
Browns Fashion also sees a similar appetite for style. "The Browns customer is drawn to midaxi hems; whether it's high-end office attire or upcoming summer events and weddings," says Heather Gramston, womenswear buying manager at the luxury fashion retailer.
"Our most popular styles include Pleats Please Issey Miyake and the minimalist version of De La Vali. For something a little more elevated and noteworthy, Browns shoppers were drawn to styles from 16Arlington, Alexander Wang and Zimmermann. The appeal of a midaxi hem is in its versatility and wearability to be dressed up or down; personally I would wear mules and a mini bag for an upcoming summer occasion, or dress down with a t- casual shirt or a knit for an everyday look.
"I love a simple pop-colored midi dress with a blazer thrown over the shoulders with a flat sandal. It's a formula that works for many occasions and for inevitably unpredictable weather," Page advises.
Rixo, a London brand known for creating feminine dresses that flatter all body types, regularly features the midaxi hemline in its collections, once again proving its staying power.
Half of the brand, Henrietta Rix, thinks it's a smart buy for your wardrobe. "It's a great wardrobe investment because you can honestly get a lot of benefits out of it," she notes. "It's such an easy length to wear and it's also practical – I'm always on the go whether it's in the office, on set or traveling across London for meetings, and my midi dresses are my favorite."
"The great thing about this length is that you can combine it with so many other pieces in your wardrobe. A midaxi goes well with almost any type of shoe, I always wear mine with a pair of ballet flats in the summer or boots for the winter," she explains. "When I dress up the way it cuts down your leg is so flattering with a pair of strappy heels. I love pairing the mid-line with a belt around my waist, usually my top picks are one of our Tanya or Darcie belts, or something vintage that I've picked up over the years."
The popularity of the midaxi is largely due to its portability, and as shoppers, longevity in our wardrobes and versatility have never been more important when making a purchase. By investing in styles that are built to last that steer clear of fleeting trends, we build our wardrobe forever and refrain from over-consuming, which means we approach fashion in a much more eco-friendly way. 'environment.
Bahnsen echoes this: "It's statement-making but versatile, which makes it a good investment. with it and you know you'll be wearing it again and again forever, rather than shopping for just one occasion.
This content is imported from Instagram. You may be able to find the same content in another format, or you may be able to find more information, on their website.
It's no wonder the influencer world favors the style simply because it's more flattering than other styles, with our go-to style muses like Monikh Dale, Abi Marvel and Florrie Thomas opting for the hemline.
This content is imported from Instagram. You may be able to find the same content in another format, or you may be able to find more information, on their website.
This content is imported from Instagram. You may be able to find the same content in another format, or you may be able to find more information, on their website.
When it comes to style, it's a matter of choice. Bahnsen recommends wearing the midaxi over jeans, while Rixo's Rix pairs hers with everything from ballet flats to winter boots.
This content is created and maintained by a third party, and uploaded to this page to help users provide their email addresses. You may be able to find more information about this and similar content on piano.io