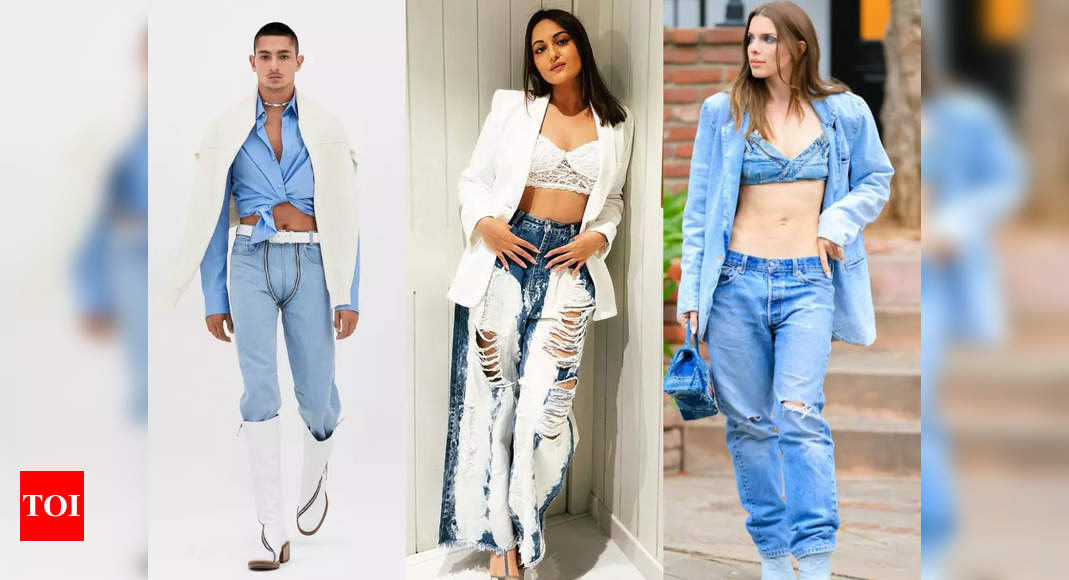 The denim styles that are all the rage this season
One of the hardest things you can do is find the perfect pair of jeans. There is no denying it. If you do things right, your life takes off quickly; if you're wrong, your life crumbles in front of the mirror.
In fact, jeans are an absolute must in every wardrobe. Whether it's a cosmopolitan city or a city center, global denim dominates all of its counterparts in quite a palpable way. Although denim fashions come and go (hello, baggy silhouettes), jeans are still there to match your blazer, sweater or white t-shirt and carry you from the workplace to the coffee shop to your leisurely stroll in the blink of an eye.
But, whether your favorite pair of jeans is a high-waisted slouch or a slim pair in a dark hue, there are a plethora of jeans styles in 2022 that could inspire you to step out in a new style every time, but in denim. This year's hottest looks will take you on a new saga of denim styles you'll want to follow and flaunt, irresistibly.

Cold colours
It's worth mentioning that the multicolored jeans trend is wide-ranging, implying that extreme brightness or quirkiness isn't necessary. For those who prefer simple colors, the color can take the form, or shade in this case, of any unconventional blue color, such as brown denim pants or a

buttery pale pair. You can also take inspiration from nature by wearing jeans with a felted look of a sunrise or a verdant forest.
Flared jeans
This wide leg silhouette keeps you warm in the winter while allowing you to breathe in the summer. To balance out the extended hemline, complement the wide-leg pants with a crop top, halter top, or v-neck tee.
Dark washes
Dark indigo denim is making an appearance again in summer 2022, following the popularity of stonewashed washes of the 1990s. Dark, sleek washes have been seen on the catwalks of Saint Laurent and Christian Dior, proving they are the sharpest step to making denim instantly professional.
Small size

The optimistic low-rise jeans trend is still strong after spring. Due to catwalk debuts at Versace and Missoni, low-rise jeans also got the designer name stamp of approval. Wear this look with a deep neck satin blouse or a turtleneck top!
Long denim skirts
The long denim skirt makes the next entry. Yes, the retro look is very popular right now, and no, it's not terrifying. In fact, it's sleek, cool, and ready to be adopted. This skirt can be worn simply with sneakers, but due to its large slit and length, it can be dressed up with a mule and to enhance the grace you can also adorn yourself with minimalist jewelry sets.
These are the few denim silhouettes rocking the runway this season and so should you.