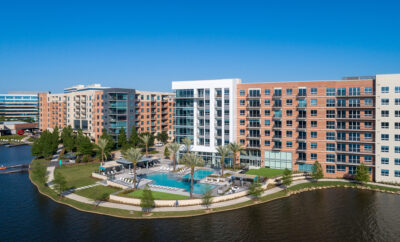 Two Lakes Edge at Hughes Landing named New Mid-Rise Real Estate Development of the Year
Two Lakes Edge, the eight-story luxury multi-family development in the Woodlands® has been honored as a 2021 "New Mid-Rise Property of the Year Development" by the Houston Apartment Association. Developed by The Howard Hughes Corporation® (NYSE: HHC), Two Lakes Edge is currently 96% occupied, located in Hughes Landing® and set against the shimmering 200-acre Lake Woodlands, with a pedestrian-friendly environment rich in amenities, including including restaurants, retail, arts and entertainment. Hughes Landing also offers Class A offices and an Embassy Suites by Hilton.
Two Lakes Edge consists of 386 high-end units that offer the freedom and convenience that comes with the lifestyle without the hassle, upkeep and expense of home ownership. The modern luxury development offers a variety of micro studio units, one, two and three bedroom units, featuring high-end finishes, appliances and state-of-the-art residential technology.
With a focus on health and wellness, Two Lakes Edge offers many outdoor amenities adjacent to Lake Woodlands, including a resort-style swimming pool with elevated water views, a European-style courtyard with an outdoor fireplace and an expansive outdoor fitness lawn that offers free use of kayaks and bikes for residents.
The interior fittings include a large, state-of-the-art fitness center with a large yoga room, a sports lounge with multisport simulator, a sky lounge, a co-working space offering meeting space and private offices, a wine cellar. wine and individual general storage units.
Two Lakes Edge offers convenient parking with direct access to each floor and offers shops and a future restaurant site on the ground floor facing Hughes Landing Boulevard.
"We are honored by the Houston Apartment Association's recognition of Two Lakes Edge," said Crystal Bledsoe, National Manager of Multi-Family Assets for The Howard Hughes Corporation. "This prestigious award demonstrates the dynamic and modern waterfront environment offered by this luxury multi-family property at Hughes Landing."
Hughes Landing is a vibrant 24/7 community. Cafes and activity trails are activated by walkers, runners and morning dog walkers along Lake Woodlands. At noon, the area's many restaurants and retailers, anchored by Whole Foods® Market, become an ideal community destination for social and business events. In the evening, residents and visitors alike stroll along Restaurant Row's patios. The Rock the Row Concert Series features live music concerts in the spring, summer and fall at Band Shell. Lake Woodlands is also active with kayakers, rowers, and stand-up paddleboarding on offer at Lakes Edge Boat House.
Two Lakes Edge is the second multi-family residential building in Hughes Landing, completing One Lakes Edge, which was recognized as "Best Mid-Size Community of the Year" in 2019 by the Houston Apartment Association.
For more information on rental opportunities at Two Lakes Edge, visit www.twolakesedge.com or call 281.719.2000.
Advertising
About Woodlands®
The Woodlands, an award-winning 28,500-acre prime planned community located 27 miles north of downtown Houston, was recently recognized as America's Best Community to Live by by Niche.com. The Woodlands offer an unprecedented 28% green space, leading the way among planned communities that practice conservation. It is home to 119,000 people and over 66,000 people work in the community. The Woodlands has received many accolades in the past, including the Vision Award, Development of Distinction from the Urban Land Institute; three-time winner of the "Master Planned Community of the Year" award, four-time recipient of the "Humanitarian of the Year" and "Trailblazer of the Year" awards in 2018 by the Greater Houston Builders Association; American Trails Developer Award; American Society of Landscape Architects Environmental Planning Award, Houston Section of Texas Section. The Woodlands is a community of The Howard Hughes Corporation®, which supports over 180 local causes in the Houston area through its HHCares program. For more information, visit www.thewoodlands.com. For more details, find us on Facebook, Twitter and Instagram.
About Howard Hughes Corporation®
The Howard Hughes Corporation owns, manages and develops commercial, residential and mixed-use real estate throughout the United States. Its award-winning assets include the country's preeminent portfolio of planned communities, as well as operating properties and development opportunities, including: New York City Seaport; Downtown Columbia®, Maryland; The Woodlands®, The Woodlands Hills® and Bridgeland® in the Greater Houston, Texas area; Summerlin®, Las Vegas; Ward Village® in Honolulu, Hawai'i; and Douglas Ranch in Phoenix. Howard Hughes Corporation's portfolio is strategically positioned to respond and accelerate development based on market demand, making it one of the strongest real estate platforms in the country. Dedicated to the creation of innovative spaces, the company is recognized for its ongoing commitment to design excellence and the cultural life of its communities. Howard Hughes Corporation is listed on the New York Stock Exchange as HHC. For more information, visit www.howardhughes.com.
Source: The Howard Hughes Society
Advertising