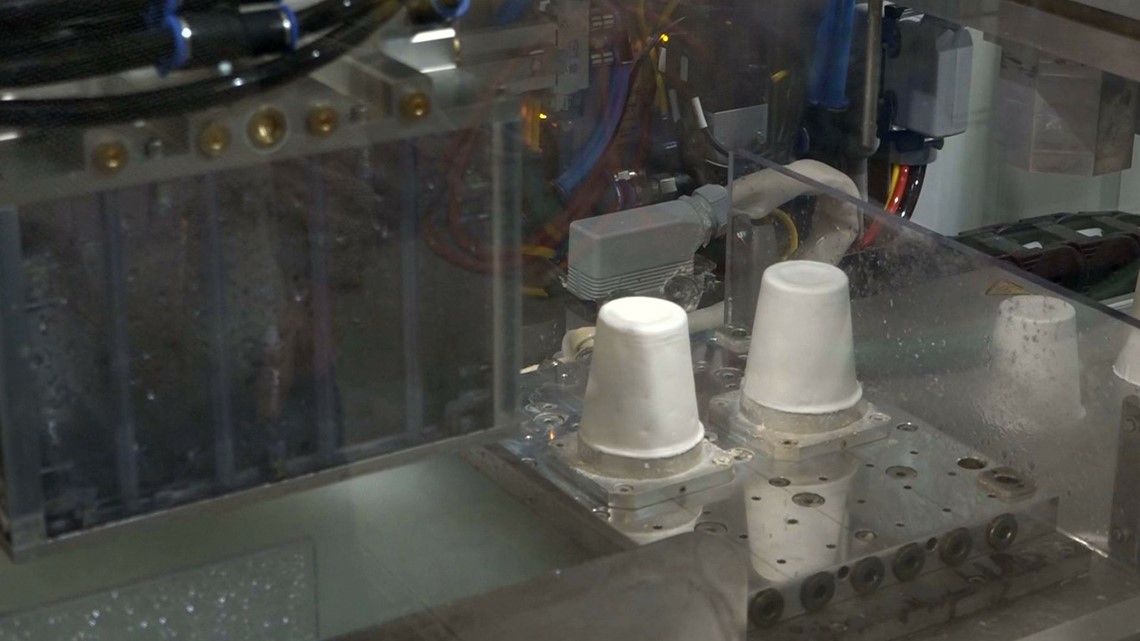 UMaine first US university with renewable packaging machine
The purpose of the machine is to help eliminate the use of plastics and instead use paper products that serve the same purpose.
ORONO, Maine – The University of Maine Process Development Center has a new machine that takes dough and makes paper plates, bowls and cups.
The goal is to eliminate plastics and instead use paper products that serve the same purpose.
"Looking at our wonderful big trees, it's a legacy industry of the state," said Colleen Walker, director of the Process Development Center. "That's what I think is the next big thing for the forests of Maine and the Mainers."
UMaine researchers are testing the cups and plates and are now available to work with different companies interested in this process of turning wood pulp into paper. The university also trains people to use the equipment to support the forestry industry as it develops.
"It's a simple step for them to come here, get educated on this, and then join this growing market for fiber-based plastic packaging replacements," Walker said.
This is the first such machine at a university in the United States.
The German manufacturing company said it hopes to expand its footprint as the technology gains momentum.
"The service we render to the University of Maine, [is] provide these contract research services to companies so that they can come here, work confidentially with us and with our staff, to develop the formulations that we need," Walker said.
The fiber thermoforming machine at Orono will help advance research into renewable packaging, which will greatly benefit Maine's forest products industry.
Kiefel, an international leader in thermoforming and joining technology that is part of the Bruckner Group based in Siegsdorf, Germany, has chosen UMaine as a key research partner for working with natural fibers like cellulose, straw or plants. to be used as the main material for the cups and plates.
The machine is called Natureformer. Matt Sieverding leads Bruckner Group USA.
"When it comes to special recipe developments [and] when it comes to new processes that we want to try, it's very important for us to work with local universities," Sieverding said.
"Kiefel and Brueckner have a long history of collaborating with educational institutions, and we view these partnerships as essential to innovation," said Sieverding. "In recent years, Kiefel has invested significantly in the development of fiber thermoforming, and we sought to work with UMaine because of their expertise in fiber processing and their leadership in bioeconomy research and development. We are particularly excited to see how UMaine researchers could employ nanocellulose to optimize the barrier properties of thermoformed fiber and help improve product quality."
Kiefel has a larger machine commercially available. The UMaine laboratory machine in Orono will mainly be used for research and contract work with companies.
"This partnership is important to both UMaine and the State of Maine," Walker said. "With Kiefel's Natureformer, our researchers can explore new, value-added uses of Maine wood fiber in sustainable packaging applications, and the PDC will significantly contribute to growing knowledge of fiber thermoforming in Maine and beyond."
Walker added that UMaine students can show off their engineering skills and work on sustainable solutions with this machine.
"You have to know forest fiber, chemistry, a lot of robotics. It cuts across all disciplines at UMaine. We're really excited to have this on campus!" says Walker.
More articles about NEWS CENTER Maine